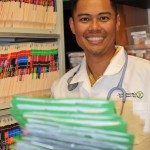 Welcome to San Antonio Family Medical Clinic. We are glad that you found us, a place where you can feel safe about going for your health care needs!
We specializing in treating most of your general medical as well as chronic and Urgent needs that require professional medical attention.
You will be glad you found us. We are a one stop clinic for most of your health care needs:  acute, immediate or chronic.
We offer an intuitive approach to health care that allows patients to receive the exact care they want, when and how they want it from their medical provider. We offer same day service to care for your 'urgent' care needs. Our goal is to put the patient first in every interaction and deliver excellent and attentive care for your immediate needs.
URGENT WALK IN VISITS — We are here for your SAME DAY needs! Call now (619) 255-2950. Also open late evenings and Saturdays. Our Office Visit rate is only $45 and we can provide you with prescription medication on site as well as antibiotic injections, IV fluids, lab work, etc. We strive for excellent patient care by treating individuals with a welcoming, respectful, and skillful experience.